360 Degree Promotion Plane For Leads Generation
Generate Leads For College, University By 360 Degree Marketing Plan
Colleges and universities all want to lure the best and brightest students. Increasingly, colleges are peeking for ways to market themselves. Many learning institutions are marketing their online learning programs, degree programs, and campuses. So, it's hard for future students to stand out. When choosing the right school, students must consider a lot of factors. Is it expensive? Are there any notable alumni? Is this college a good place to pursue career opportunities? These queries must be answered while presenting your school as its unique environment. Your college will receive more interest if you use these college marketing strategies.
Services offered by 360 Degree Promotion Plane For Leads Generation:
YouTube channel management
Instagram account management
Google my business promotion
SEO and Digital marketing
Facebook account management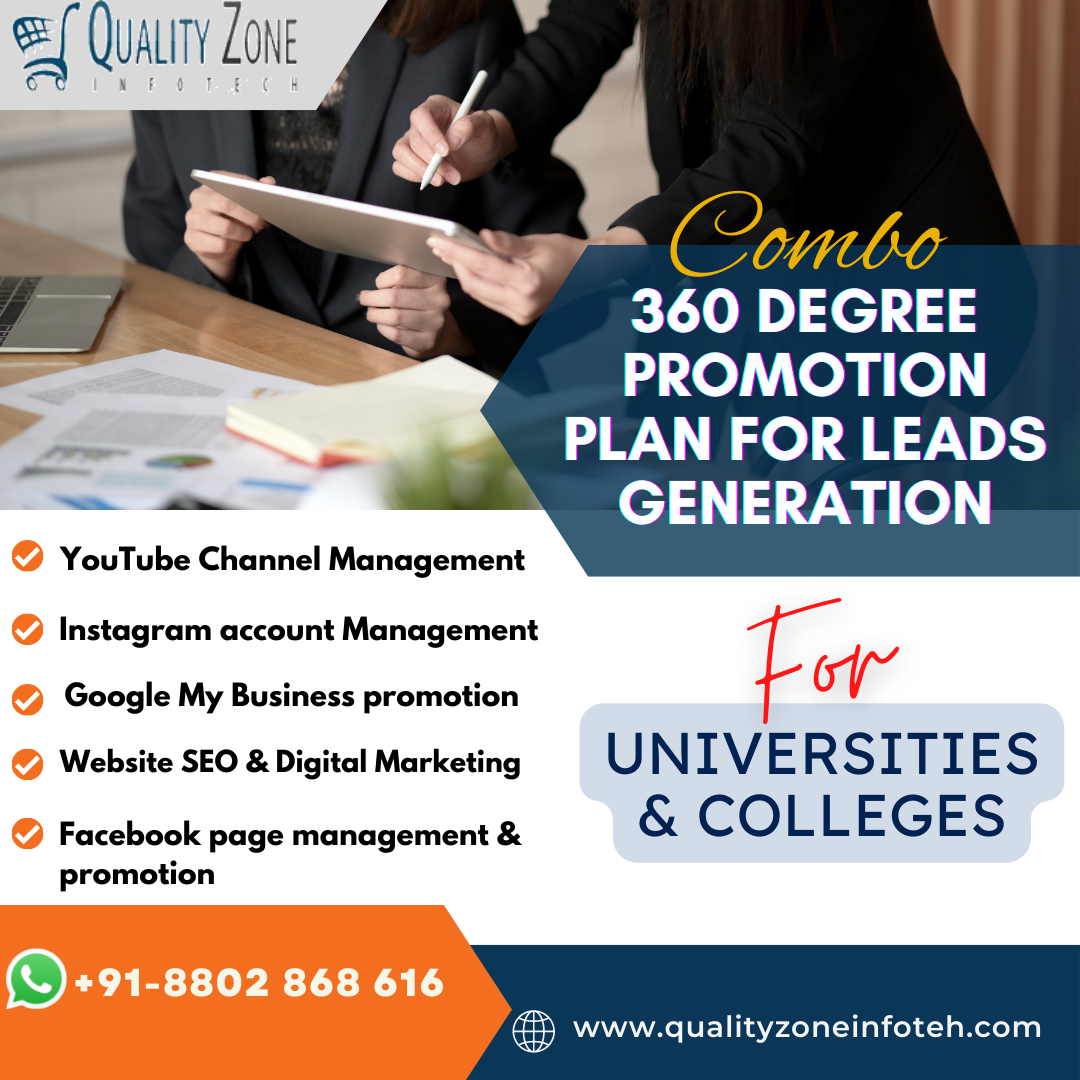 YouTube Channel Management
As we know, there are around 2.6 billion users active every day. With YouTube, there is a large audience. This audience will help others to decide on various factors. With promotion on YouTube, your video will reach students. Then, they'll contact you to ask various questions. This will help you in getting leads.
Google My Business Promotion
It is well known that Google creates business pages. The page will be created according to the target location. Assume your college/ university is in Punjab, then you must add Punjab as a location. You should register your college at that address after Google approves your college location. Then google business posts will get more visibility in that place. We also manage to google my business.
SEO And Digital Marketing
Digital marketing relies heavily on SEO because it helps you rank higher on Google. This enables you to make your website content more search engine-friendly and gain more traffic.
Instagram Account Management
As we already know, Instagram is rising day by day. Everyone has their own Instagram account. We help you to promote your college page on Instagram. People will have your college listing and phone number on Instagram.
Facebook Account Management
It is the biggest platform. Around 2.5 billion active users use it every day. Here we will create a listing of your college or university. This will help the audience to get your listing. It will include photos or videos, and they will quickly connect with you.
Combo 360 DEGREE PROMOTION PLANE FOR LEADS GENERATION