360 Degree Promotion Plane For Leads Generation
360 Degree Marketing Plan For Gym & Fitness:
It is vital to find new members if you have your gym. There is always a lack of gym-going people, but you must find new people to fill that place. However, you don't know marketing. You don't have enough time to call or email to reach the people. Wouldn't it be lovely to have a method that automatically grabs leads for you? But do not worry Quality Zone Infotech fitness gym leads generation plan is here. Let's read more in this blog.
What is lead generation for a fitness gym?
It is a term related to marketing. It describes a plan for converting and attracting a chance into a customer. But in the gym business, someone wants to join your gym via your service.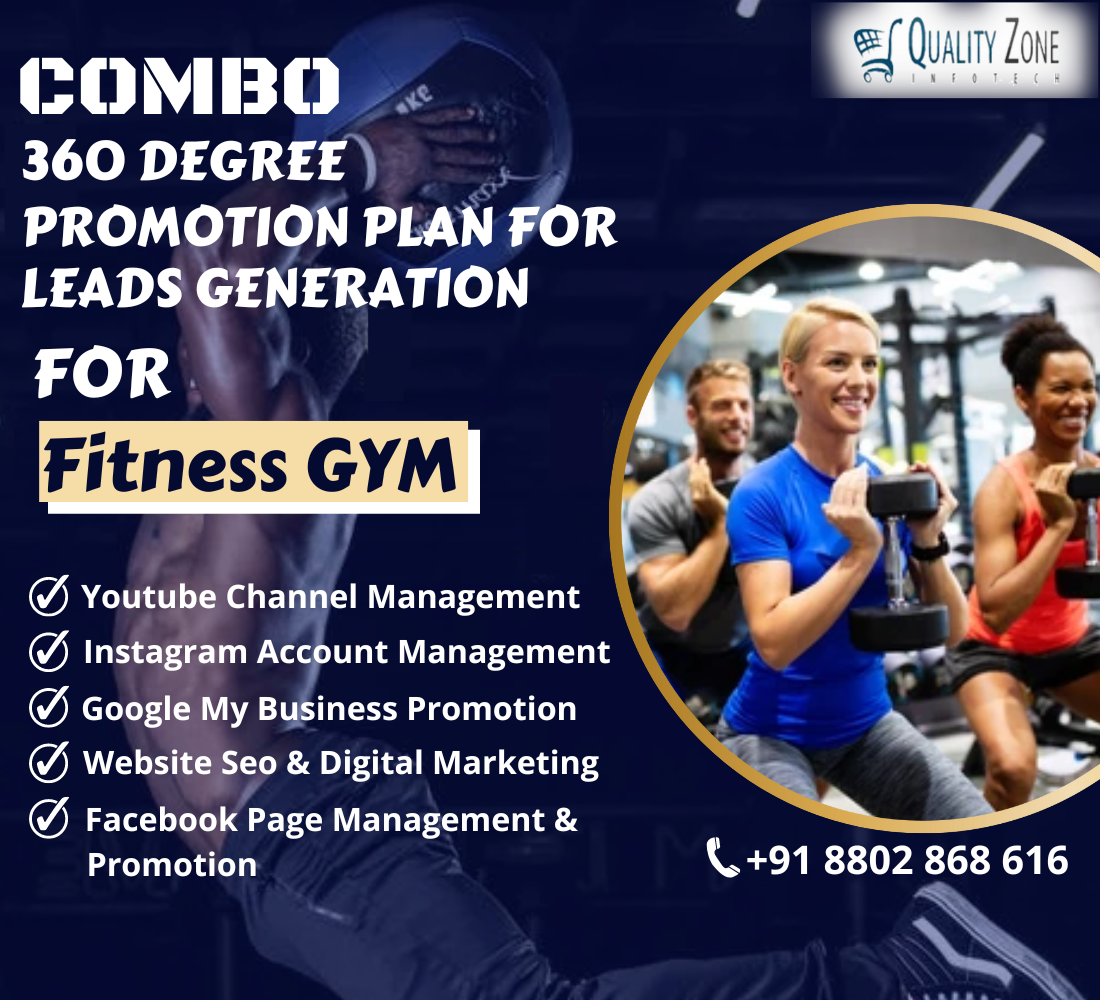 Youtube Channel Management:
Among the top video-sharing platforms in the world, YouTube is the most famous and largest. The platform provides content creators with global access in just a few clicks. It is an amazing tool for businesses to engage new options and turn viewers into clients. Quality Zone Infotech, you can promote your video according to your area. As the video reaches more audience, it will help you get more leads. You will get more benefits as more clients join your gym.
Instagram Channel Management:
By enticing more clients to fitness firms, Instagram will generate a new revenue stream for your gym.Instagram is very famous nowadays. It will help you to convert your options into new gym clients.Quality Zone Infotech will assist your fitness gym promotion via Instagram. We will help you to reach your business new heights. In addition, your firm will reach everyone using our Instagram channel Management Services.
Google My Business Promotion:
A web platform enables firms to lure more clients to your local zone. It is vital to share your location, images, contact details and many more to make it simpler for people to find you.Contact Quality Zone Infotech. They will manage to google my business of your gym. It will aid you to get more leads as clients.
Website SEO & Digital Marketing:
Using the correct keyword will help your business to grow more rapidly on the web. Keywords are vital to your business, and people can easily search for you by entering the correct keyword. Contact Quality Zone Infotech will handle and boost your site via correct keywords. With digital marketing, getting more clients for your accounting firm is very simple. Thus, your firm will be ahead of your rivals.
Facebook Page Management And Promotion:
There are around 2.3 billion users of Facebook in this world. With this, reaching the clients is not a very difficult task. Want to attract more clients rapidly. Then take the help of Quality Zone Infotech. They will handle and promote your business on Facebook. They have advanced skills, and your business will never be left behind with them.
Are you struggling to grow your gym business? Don't worry. Quality Zone Infotech will help use a 360-degree leads generation plan for your gym business. You will have more revenue and clients after this help.
Combo 360 DEGREE PROMOTION PLANE FOR LEADS GENERATION