The festival of lights is here, and the discount offers have started pouring in. Enjoy the festivities and let your online business soar to new heights with an excellent digital marketing plan.
Quality Zone Infotech offers a 3+1 offer on its digital marketing plan, where you can enjoy a free monthly subscription on booking your plan for three months.
What's the deal?
The users must pay to activate the digital marketing plan for three months. QualityZone will provide you with a month-free subscription. This means a total of four months of services at the expense of three months.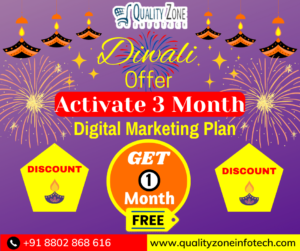 Our Services ?
● SEO
● SMM
● Email marketing
● Branding
● App development
● Content marketing
● Web design
Terms and conditions
● The never to miss discount offer is valid for all users.
● 15th November would be Last date for this offer, it is a limited-period discount
● No promo code is required.
● Booking of three months is mandatory
● Payments can be made using different modes.