E-Commerce, also known as e-Business, or electronic business, is simply the sale and purchase of services and goods over an electronic medium, like the Internet.
It has become so convenient and easy, that anyone can shop for anything right from a living room, with just a few clicks. This has evolved more with the emergence of Smartphones, where now, you can shop from anywhere and anytime, with a wireless device connected to the Internet.  Now you can search for almost any product or service online, without having to go anywhere physically. "In 2020, E-Commerce sales are expected to account for15.5 percent of retail sales worldwide."
And for those who want to make a presence as an E-commerce company the most important thing to focus on is the website of their business page.
Through an E-Commerce website, you can easily introduce your products to a large number of customers at once. And that is the reason why many traders are inclined to take their business to the next level by creating an E-Commerce website.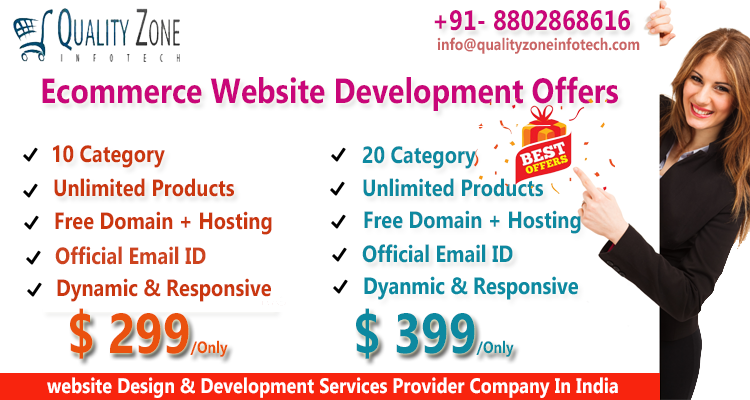 Quality  Zone Infotech is a leading Service provider of E-commerce web development, online marketing, and web services with many years of experience in E-commerce website designing and development and can design brand-new Ecommerce websites to keep your users engaged from the word go.
If you already have a website then use our e-commerce designing services to scale up the usability and engagement levels. Whether you are looking to create a new website or redesign an old one, with our E-Commerce web design services you will get good growth in your sales.
Quality Zone Infotech always works on the latest technology. Their project is with high security and mobile responsive. The websites can handle huge traffic and they use HTML5, CSS3, Jquery, Ajax, JavaScript, Bootstrap4, Angular4, etc. for the front-end development and PHP, Laravel, CodeIgniter, and NodeJS for the backend development which is done by a team of best website developer and website designer.
User interfaces need to vary for different devices – smartphones, laptops, and tablets. We understand the intricacies of different devices and browsers. In a mobile-first world, we will design  E-commerce websites that are adaptable across browsers, device sizes, and resolutions without compromising on the aesthetics.
Along with Website Development and design, we provide other services too like:
We will align with your vision of your business by offering you a full suite of e-commerce solutions. With our e-commerce website development and e-commerce hosting services turn your dream site into a store that users will adore.
Whether your business is small or it is corporate, Quality Zone Infotech holds the esteemed pride to provide the clients best web-services they can get.
The feedback they get from the clients is heart-warming and the support team is always ready to solve any website-related issues. After checking the issue Tech team co-ordinates with developers and merges the Problem as soon as possible. We will provide a service with utmost honesty and dedication to amplify your digital presence for the world to see.