360 Degree Promotion Plane For Leads Generation
Generate Leads For Realtors By 360 Degree Marketing Plan
Is your pipeline running out of views as you strive to drum up business? You should always take a step back, even if you are skilled. And Then Think about revisiting or re-interpreting some tactics. Real estate lead generation plans often evolve. Leads might not be as plentiful as they were last month. Suppose your real estate marketing is not working. Then consider the help of Quality zone infotech. Let's read more in this blog.
Services offered by 360-degree marketing plan:
YouTube channel management
Instagram account management
Google my business promotion
SEO and Digital marketing
Facebook account management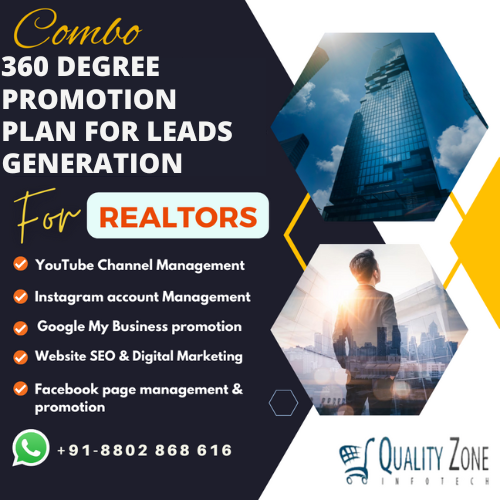 Define Lead Generation for Real Estate
It is a marketing term. It explains the method of converting and luring a prospect into a client. But in the real estate business, someone wants to rent, buy or sell their house through your service.
YouTube Channel Management
YouTube is the fastest growing platform, and around 2.3 million people use it daily. You will get many viewers on YouTube. Promote your video with the help of QZ infotech according to your place. This video will reach many audiences. Thus, it will allow you to get more leads. As a result, the more clients you get, the more benefits you have.
Google My Business Promotion
The google page of your business works at your targeted location. When google approves your business address, it will show your real estate business posts in that area. QZ infotech will manage Google my business for you. This will aid in getting maximum leads.
Instagram Channel Management
It is the most popular app nowadays. QZ infotech will help your real estate business promotion via Instagram. This will aid you to have more clients via it.
SEO And Digital Marketing
QZ infotech will help realtors by digital marketing and optimising their website through keywords. Keywords will help the clients to get the best result.
Online Reputed Management
Reviews and likes help the clients to choose the best realtor website. This enables them to buy or sell the property according to their needs.
Don't wait for any more time. Contact Us today to get the 360-degree marketing plan for your real estate business. We will use these methods to grow your business.
Combo 360 DEGREE PROMOTION PLANE FOR LEADS GENERATION